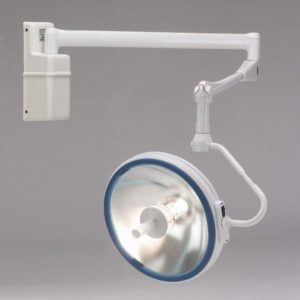 TBJ offers a wide variety of surgical lighting to fit your facility's needs and budget. From wall and ceiling mounted veterinary surgical lights to veterinary halogen and LED task lights, we have a large selection. A shadow-free beam brightens every crevice and makes work easier and operations smoother. Our veterinary surgical lights bend or twist according to the task at hand to illuminate even the hardest-to-reach areas. Don't just use any light; operating or working under a dim or unreliable light can prove to be a critical—if not fatal—mistake. Shop surgical lighting at TBJ Inc. and work with a light you can depend on. All of our lights are CSA/UL certified and have been lighting the way for veterinary professionals for over three decades.
Veterinary surgical lighting options.
Dome Light
Spot Light
Combination Surgery Light
Features:
The single 15" reflector provides a shadow-free beam at 4000 K.
Bulb produces a 6" diameter field of harmonious light and 4000 footcandles at a normal 36" working distance.
The best articulating arm delivery system for mobile, wall and ceiling applications.
CSA/UL certified.