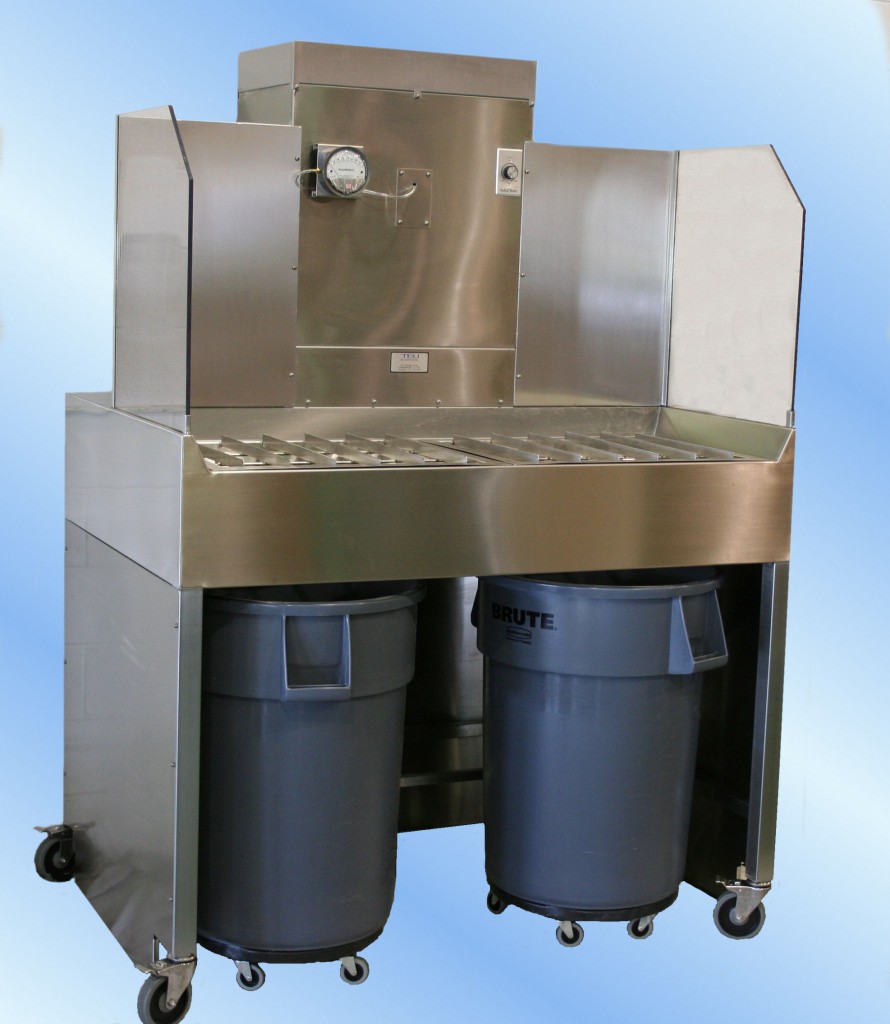 Make animal waste management and bedding replacement quick and easy with bedding scrapping stations from TBJ. Replacing soiled material has never been this simple. Our inventory offers compact, economical, and ventilated bedding scrapping stations. Models are designed to attach to building exhaust connections or for use as self-contained units with internal blower and filter modules. Dust, dander, and particulates are ventilated around the work area and scrapping grid while the removable and washable filter captures debris and waste. Keep your facility sanitary and increase effectiveness by shopping one of our many different options. We have single and double bedding scrapping stations designs for all your animal waste management needs. Our bio-economical products will not only help fight against workplace contamination, but they'll also reduce gross facility costs.
TBJ Bedding Disposal Station Model VB-400
The TBJ Model VB-400 Bedding Disposal System is designed for the disposal of soiled bedding material into the sanitary sewer system by mixing it with water and reducing and pulverizing the soiled bedding material into a slurry. Soiled bedding is manually dumped into the hopper for processing. Bedding materials such as wood shavings, corn cob, paper and cellulose material are reduced to small particles (maximum particle size – 3/8" diameter) and then flushed through a filter screen into the sewer system via a fixed hammer mill pulverizer. The unit can be designed for placement against a wall or for in front of the load end of a continuous tunnel-type cage washer for convenient disposal of soiled bedding prior to washing cages. The standard unit is non-ventilated but backdraft and downdraft options are available to provide ventilation around the hopper to protect personnel by capturing and controlling odors, aerosols and dust.


Features:
Type 304 and 316 construction
Removable bedding hopper grate with safety proximity switch
Spray gun with recoil hose is included for wash down and clean-up of the stainless steel work surface master power switch
Start switch, stop switch,"Auger On" switch and emergency stop switch are included
Pedestal mounted water proof control box with 40" high x 26 ½" wide x 50 ¾" long
Equipped with a 7.5 HP motor and stainless steel hammermill
Electrical – 480 V, 3PH, 60 HZ, 15 amps
Cold Water – 1" NPT
Drain – 3 ½" NPT
Available in non-vented, downdraft and backdraft designs
PDF Information Sheet