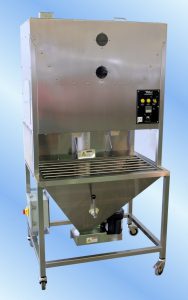 TBJ's automatic bedding dispensers are designed to provide a means of filling animal cages with bedding quickly and accurately with free flowing bedding material while also controlling the dust associated with woodchip and corn cob type animal bettering materials. By providing a consistent volume of bedding material, a bedding dispenser will help reduce overall waste and cost consumption. Because they manage and help contain unwanted debris from entering your facility. Animal bedding dispensing equipment helps to create a safer work environment. Our animal bedding dispensing equipment maximizes overall efficiency, while our simple-to-use and programmable buttons make for easy operation. We have several different models to choose from. Browse online today or contact us for additional information.
Automatic Bedding Dispenser Model BD-3600
TBJ Model BD-3600 Automatic Bedding Dispenser is a conveyorized system designed to dispense bedding into rodent cages as they pass through the unit. The unit is designed to accept animal cages as they are discharged from a conveyorized tunnel washer or as a stand alone unit and shall be capable of handling most solid beddings currently available. The dispenser shall include an output for connection to a tunnel type cage washer to allow 3-way ON/OFF operation.

 
Features:
Conveyor width : 36"
Standard conveyor length: 96" long
Dust collection option for dust containment
Type 304 stainless steel construction
PDF Information Sheet